Best Contractor Website Designs for 2018
We browsed over 1,000 contractor and construction company websites to create this definitive list of the best contractor website designs for 2018. It's been over a year since our last roundup for best contractor websites in 2016. It's nice to see a continuing trend towards more modern, portfolio driven websites within this space.
Scroll down to browse some of the most beautiful and performance driven contractor websites in the world. It's an all new list for 2018. Enjoy.
Ditto Construction
Out with the stale, in with the new.
In a world filled with stale construction websites it's refreshing to see a modern, branded approach. This website uses full screen videos in the header which are unique little vignettes of customers actually living in the spaces Ditto Construction has built. It's engaging and almost Airbnb in terms of marketing quality, which is to say it's great quality. The rest of the site follows suit with a modern layout, bold typography and a very unique parallax style 3d construction model.

Focus Building Solutions
An iPad app like experience.
There's a lot of animation, and modern transitions, on this dark design and build companies website. There's a modern feel to all of the page layouts, and a unique navigation design, it's almost like the whole site was designed to feel like an iPad app.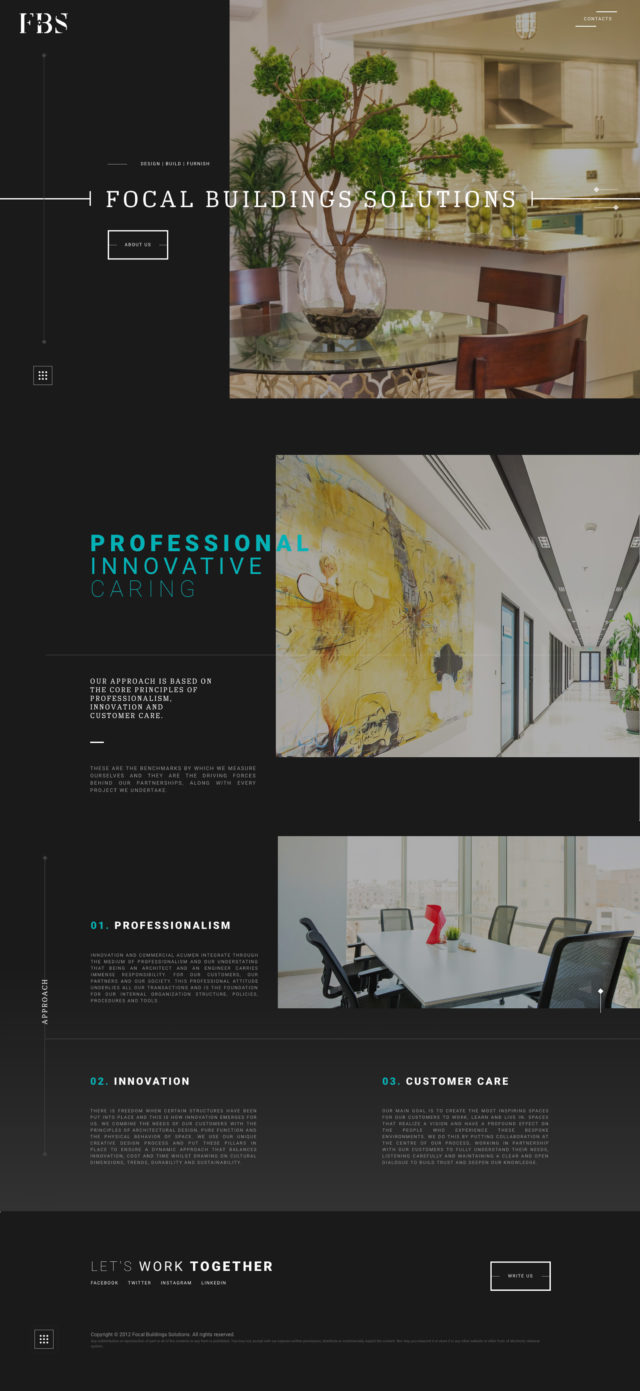 Acclaim Contractors
A monochromatic masterpiece.
It's always great to see a company take a little bit of a risk with their website design. It feels like the team at Acclaim which is a private and family-owned civil and commercial building company decided to push their website design a little further than the average commercial building company website. It's bold, it's modern, it's also completely monochromatic which is very memorable.

Stoneycrete
What every contractor site should be.
This is an example of what every contractor should do with their site. It's simple, well laid out, responsive, and really conveys the personality of the person behind the company. Choosing a contractor really has a lot to do with building trust, and this contractor website design does a good job of building that trust.

House of Bohn
Sometimes simple is the best.
An interior design company website makes our list of best construction website designs. It's very clean layout, which allows the work to speak for itself. The site has some nice transitions as you browse the portfolio and works just as well on mobile. Overall a great website for a design company.

Cutler
Big typography, bold imagery, quality layouts.
This interior design and construction consulting firm has a very bold website design design which includes large photography, big typography and very modern website layout. It's easy to browse, and the portfolio of projects showcases their work perfectly, isn't that the whole point?

Daw Green
A bespoke website design for a bespoke builder.
A specialist company focused on shopfitting, and luxury retail construction. This website feels just as bespoke as their custom joinery work. It has this really subtle yet beautiful colour changing effect as your scroll. Custom icons, professional photography and an very unique layout all contribute to create a great website design.

Rob Mills
This website is ready for prime time.
This website feels like a website for a major motion picture release. There is a completely unique layout which focuses on four pillars for their firm, land, architecture, interiors and living. Each section has top quality photography, and videos. It's a truly beautiful website which leaves a lasting impression with visitors.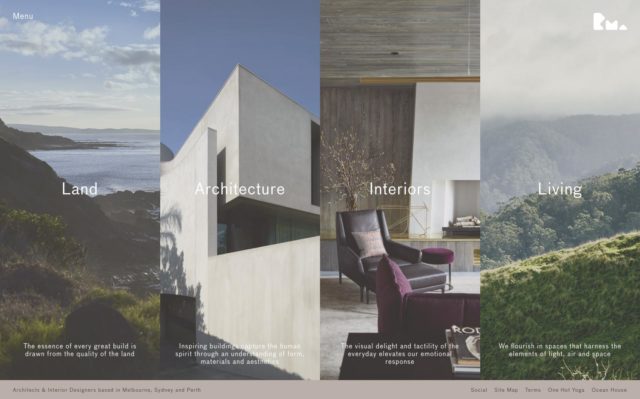 K. Boyce Renovations
Sets the benchmark for a quality contractor website.
Sometimes you don't need every bell and whistle in the programmers toolbox to create a great contractor website. This website has a very functional layout, complete with uniquely designed icons and other brand elements. This really should be the benchmark for any quality contractor website design.

Square Footage Inc.
A perfect portfolio driven showcase.
Best advice. If you're a really good design / build company… Your work is going to speak for itself, so create a website which acts more like a portfolio. This website does just that, it's a simple responsive portfolio website which showcases their work perfectly.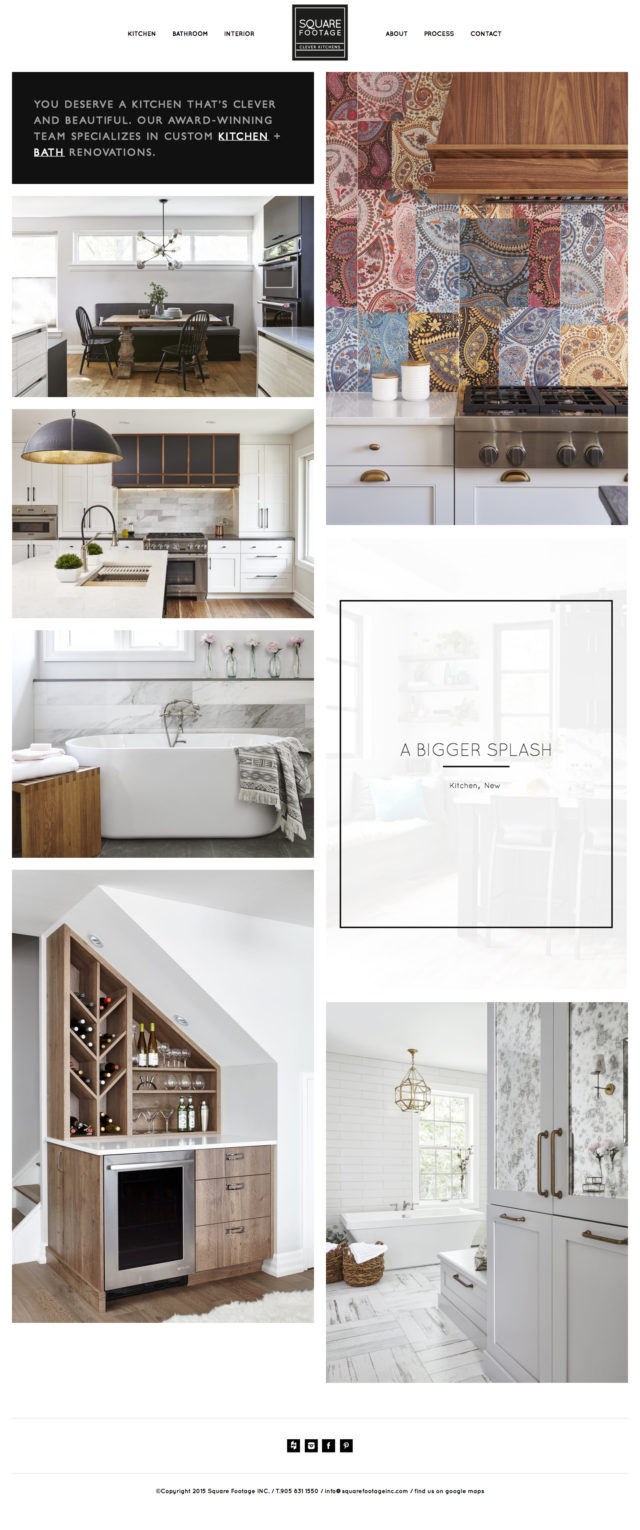 The future of construction website design.
We're always interested to see where contractor and construction company website design is headed next. Most digital design trends are driven by brands, with big budgets, but sometimes even smaller companies in the contracting space come up with website designs which are trendsetters in their own right. We've rounded up a few contractor website concepts to give a sneak peak into what the future holds for construction website design.
Let an expert guide you.
Beam Local helps professionals launch better websites, outrank their competition on Google, and attract better customers for their businesses.