10 Best Contractor Website Designs for 2016
We've browsed thousands of contractor, construction, home builder, and other home and repair related websites to find some designs which stand out from the crowd.
The majority of contractor related website designs are poor, but there are some great sites out there, so please browse our list of the best contractor web designs.
If you'd like us to grade your site, or if you're considering a redesign or a new site altogether shoot us an email at support@beamlocal.com and we'll take a look.
1. Jova Construction
Why we love it.
A construction and renovation website design which really stands out from the crowd. They obviously invested in getting a unique brand design for their business and translated it into an informative and visually engaging design.

2. Mchale Renovations
Why we love it.
Most contractor websites are based off of themes or created with DIY website builders, they all end up looking boring or too busy. It's nice to see a fresh, clean and modern website design approach being used for Mchale Renovations.

3. Stonewood Construction
Why we love it.
If you're lucky enough to have real quality photography of your construction projects you should take some direction from the Stonewood Construction site and let the photography do the talking. This is a great, clean and modern website design which allows their work to speak for itself, while still providing room to publish a narrative around their business and philosophy.

4. RD Construction
Why we love it.
If you build impressive spaces, you should show them off. A simple photo portfolio style site for this construction company.

5. One Oak General Contracting
Why we love it.
This site definitely feels like it was designed to fit within a technology framework, which in this case is ok. Sometimes it's nice to just have a detailed, user friendly website design for a construction company.

6. Royalty General Construction
Why we love it.
Similar to the One Oak website, if you're going to design a simple website for your construction business try and introduce one or two design accents which will help you stand out from your competition. The dual tone gradient on the header makes this site much more unique than it would be without that design accent.

7. Allwright Contracting
Why we love it.
A contractor website with a little bit of a story/personality. Most customers end up choosing a contractor based off a referral or because they feel like they can trust them. This website has been designed to deliver a quality story to backup the modern responsive layout.

8. Atkins Construction
Why we love it.
Here's a note to any contractor, get a professional photograph of yourself and add it to your site. It builds rapport with you visitors. This site does a great job with layout and content to make people feel comfortable that this mason takes his business seriously.

9. Bama Contracting
Why we love it.
A punchy colour palette really helps this construction website design pop off your screen. It's easy to navigate and there's a strong call to action.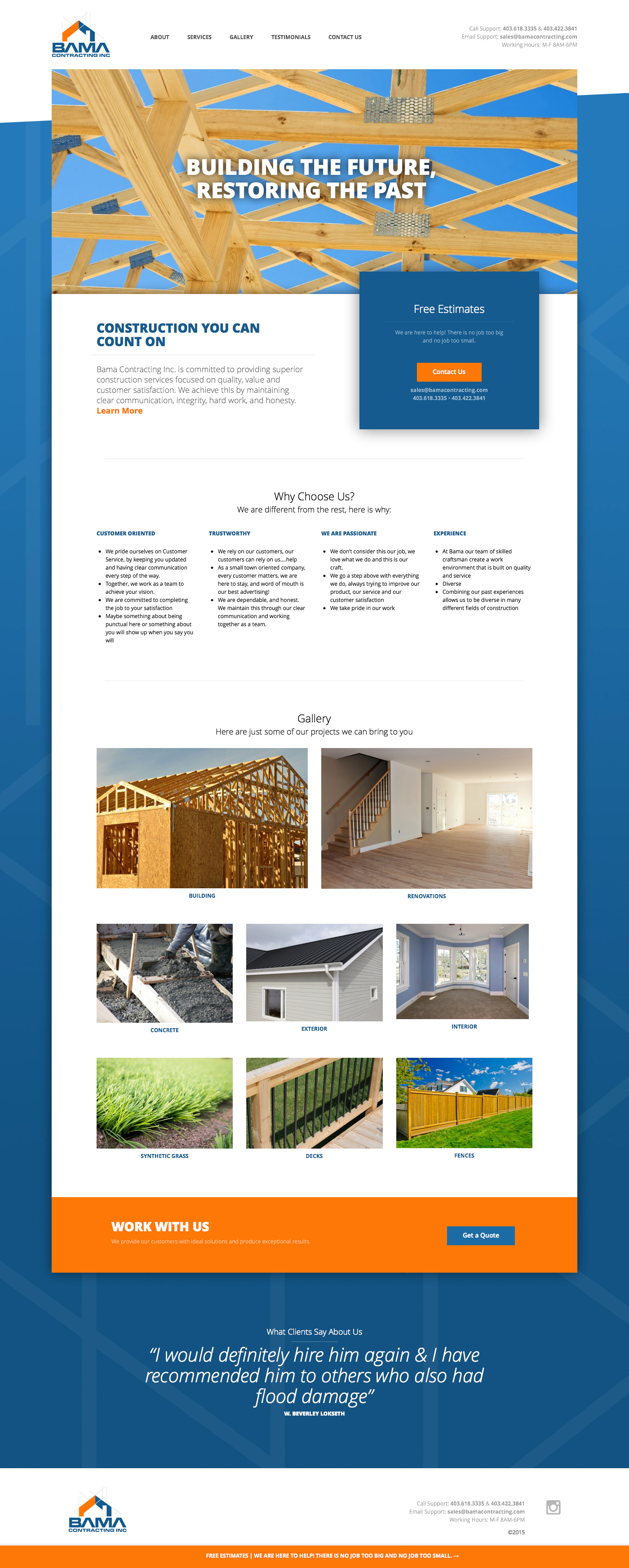 10. Home Boss
Why we love it.
Getting all of your information onto a single page website design for a contractor can be a challenge. Home Boss does a good job of presenting all of their information on a single page without letting it feel overwhelming.

Let an expert guide you.
Beam Local helps professionals launch better websites, outrank their competition on Google, and attract better customers for their businesses.