Pharmacy Website Program
A Pharmacy website solution that helps increase scripts and store sales. With a Pharmacy on every corner, show potential customers how your services, testimonials and promotions make you different.
Find out more by calling 1-855-831-4530 or email kyle.godon@beamlocal.com.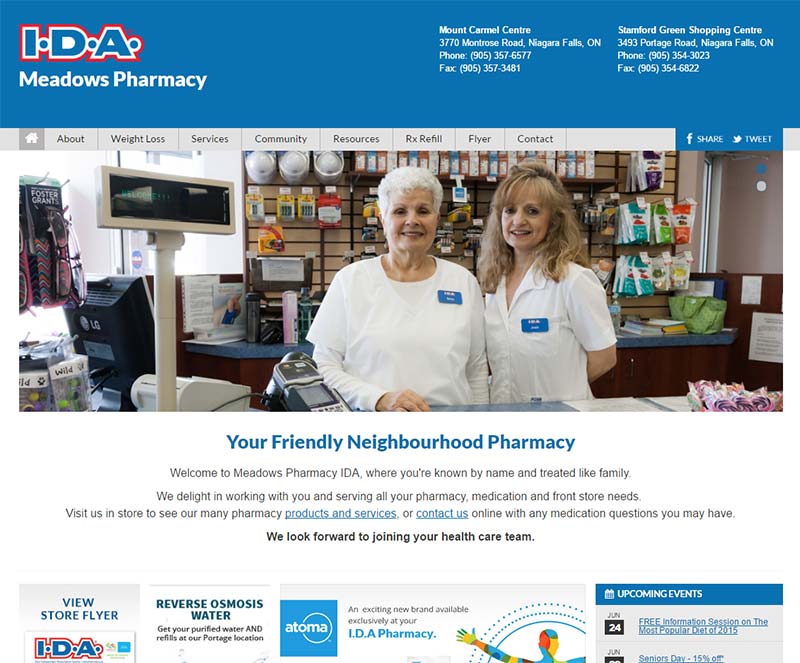 Attract New Customers
Build trust with a professional looking, mobile friendly, customer-focused Pharmacy website.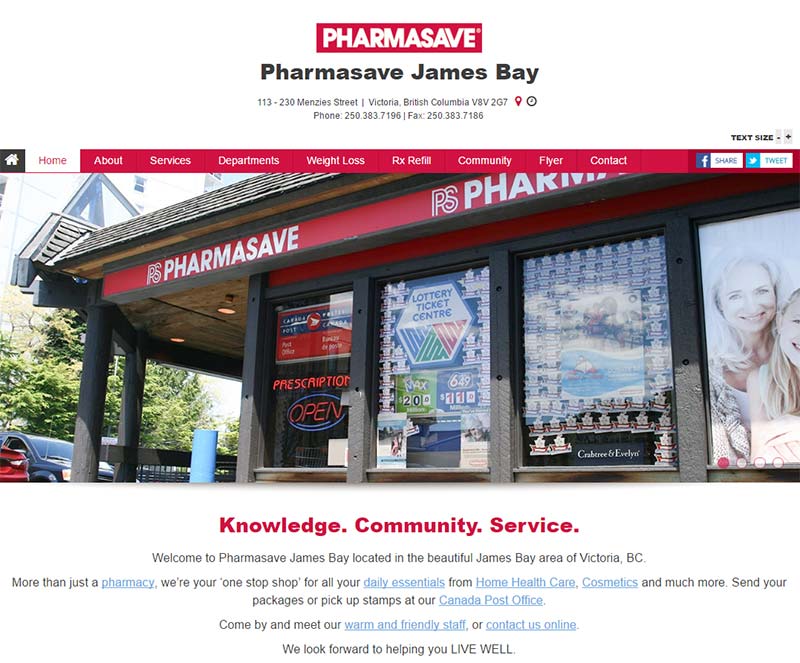 Retain Existing Customers
Strengthen customer loyalty with engaging content like events, news, blogs and more.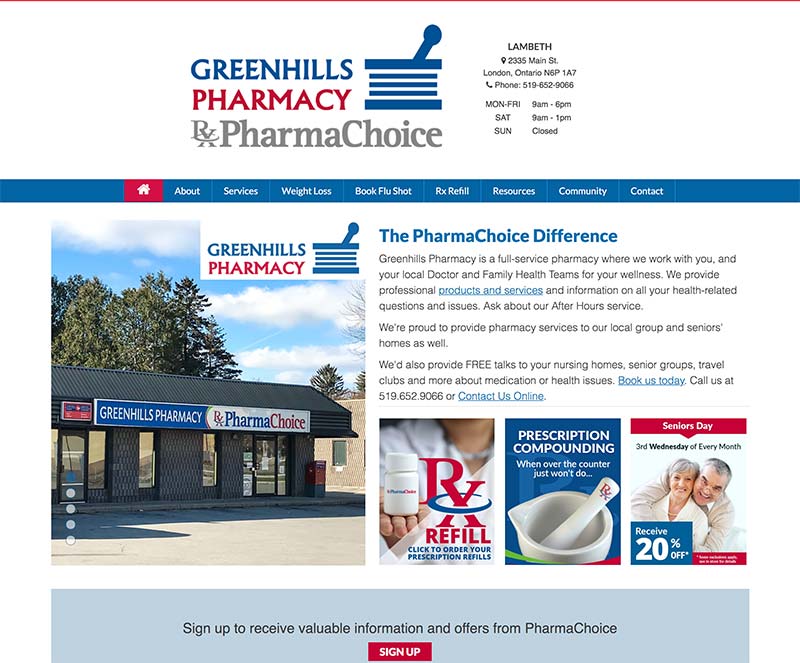 Fast Install Time
Installed and LIVE in in days and in hours of your time.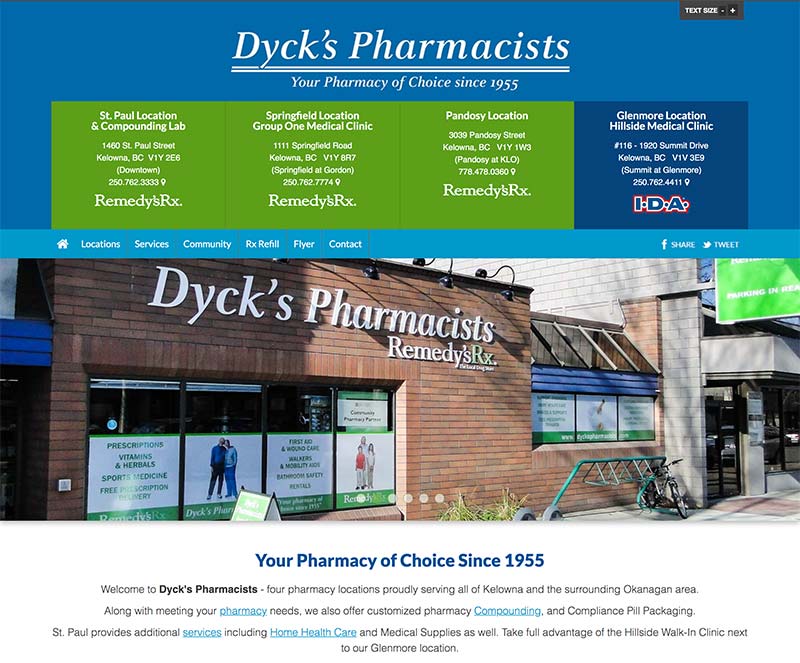 Fully Responsive
Customers can easily navigate your site on all devices, from PC's to smartphones and tablets.
What over 100 other Pharmacies are saying
Our new website allows us to communicate with our customers in ways we can't always do over the counter. It's a great resource to show them how much we can help.
Zahra Carino – Owner, www.cordovabaypharmacy.com
Who's Using It?
From British Columbia to Nova Scotia, we're proud to have installed over 100 (and counting) pharmacy websites working for Pharmacy Owners across Canada.
Join these Pharmacy stores already benefiting from a pharmaWeb website!
Why a Website?
Ultimately we want to help you increase scripts and have more people buy front store items. A Pharmacy Engage website is uniquely positioned to help you do this:
Your Customers Expect It.
Your customers expect you to have a responsive website so they can quickly look up information about you no matter what device they are using.
Separate Yourself From the Competition.
You need a web presence that distinguishes your store from the many other pharmacies in your area. Emphasize your personal touch, the fact that relationships are important to you, and more of what makes you different.
Retain Customers, Get New Ones.
With so many pharmacy choices, you need a way to retain and engage your existing customers. For example, more and more seniors are going online and looking for health and medical information. See this report on the online activities of seniors.
Are customers finding your pharmacy when doing a search online?
Our websites have been designed and coded for optimal ranking results. In fact, our websites tends to organically rank well when doing a local search on Google.ca for "pharmacy city/town" without further marketing initiatives.
However, should your local market require you to intentionally increase your marketing efforts, our websites are already "Marketing Ready", meaning any agency can use Beam Local within their marketing initiatives.
We can also help you find the right Marketing Agency for your marketing needs as well.
Avoid the wrong prescription
With so many companies offering web services to pharmacies, it's not easy to find the right company to take care of your Pharmacy website needs. That's why we do what we do.
Here are just a few of the pitfalls to avoid, based on feedback from pharmacies that wish they had chosen us instead:
They had to write their own content:
Nothing consumes more of your time and delays the launch of a website more often than having to write your own content. We write all your non-technical content.
They had to do their own photography:
Everyone has a camera on their phone, but not everyone is a professional photographer. We have packages that include full store and staff photography by a professional photographer that comes to your store.
It took much longer than expected:
Some pharmacy websites can take weeks to months to finally be finished, as most web companies have to start from scratch. Our experience with over 100 pharmacy website installs – from marketing proven designs to time proven processes – have your website completed in days and in hours of your time.
They were charged for every update:
New and updated content helps your website rank higher in Google. Don't be caught having to pay your website provider every time you need an update. We give you 24/7 access to update your own website, and we're always here for support should you need it.
It was more expensive in the end:
Between writing their own content, trying to do their own photography, provide direction, and being charged for updates, the final product became much more expensive, and wasted time and resources. We do it all, do it well, and at the price specified before we start.
Get started in just 10 Minutes
We'd love to give your Pharmacy the best website it can have to make it the most profitable for your business. Sign-up for a Pharmacy Engage package and we can get started. Find out more by calling 1-855-831-4530 or email kyle.godon@beamlocal.com.
*Beam Local is a Canadian company; note that Beam Local invoicing will be processed in Canadian dollars.