[15 min read]
Easy Tips on How to SEO your Small Business Website
by Samantha Gordanier
Does the term SEO intimidate you? We're here to lay out a very simple guide, focusing on the items which are going to give you the biggest bang for your SEO buck.
We're going to explain 1) What is SEO, 2) Why SEO matters to your small business, and 3) Show you how to SEO your website with 6 foolproof tips.
We understand the deep and wide world of search engine optimization. Everything has been simplified, and made clear so that you just have to follow our simple guide to small business website SEO. Some of these things will have an immediate impact and others will pay off over the long run. Ok, let's get started with a quick overview.
What is SEO Search Engine Optimization?
Search Engine Optimization, or SEO, is the strategy and set of tactics used to increase the amount of visitors to a website by obtaining a high-ranking placement in the search results page of a search engine like Google.
How does a Search Engine (like Google) Work?
A search engine has three major functions: 1) to crawl the internet, 2) to build an index, assigning a weight to potential search results and, 3) to provide search users with a ranked list of the websites they've determined are the most relevant.
A search engine like Google scours the entire internet, it follows every link to build the world's most complete ranking of every website, and then uses it's own algorithm to rank those pages based on relevancy. So the next time you perform a search for 'Divorce Lawyer', 'Best All-Wheel-Drive SUV', 'Best Apple Pie', Google will return a sorted list of the most relevant results on a single page, this is page 1, this is where you want to be.
Using strategies or tactics to improve your website's rank within these search results is considered search engine optimization.
Why does SEO (Search Engine Optimization) matter to your small business?
There are well over 6.1 billion Google searches per day, and that number is climbing. Nowadays customers don't open a phone book, or the yellow pages, they don't call a friend, they Google it. They search for places to travel, restaurants to visit, where to get their car fixed, what lawyer does mediation, and every other type of business/service you can imagine. You need to show up on Google results if you want your business to continue to attract new, quality customers.
Check this out… 43% of people on Google are researching a local business before going to their store to buy a product offline.
Showing up on Google is the difference between showing up or getting buried behind your competition.
The more visibility you get through optimizing your website for search engines, the more exposure your site gets, the more visitors you get, and ultimately the more customers you can attract.
Now we're ready to dive in and follow this simple playbook which explains 6 easy ways to improve your SEO.
Keep in mind that this is a process, and magic doesn't happen overnight. We won't guarantee that you'll rank on the first page of Google tomorrow, but these beginner's SEO tips will certainly set you on the right track.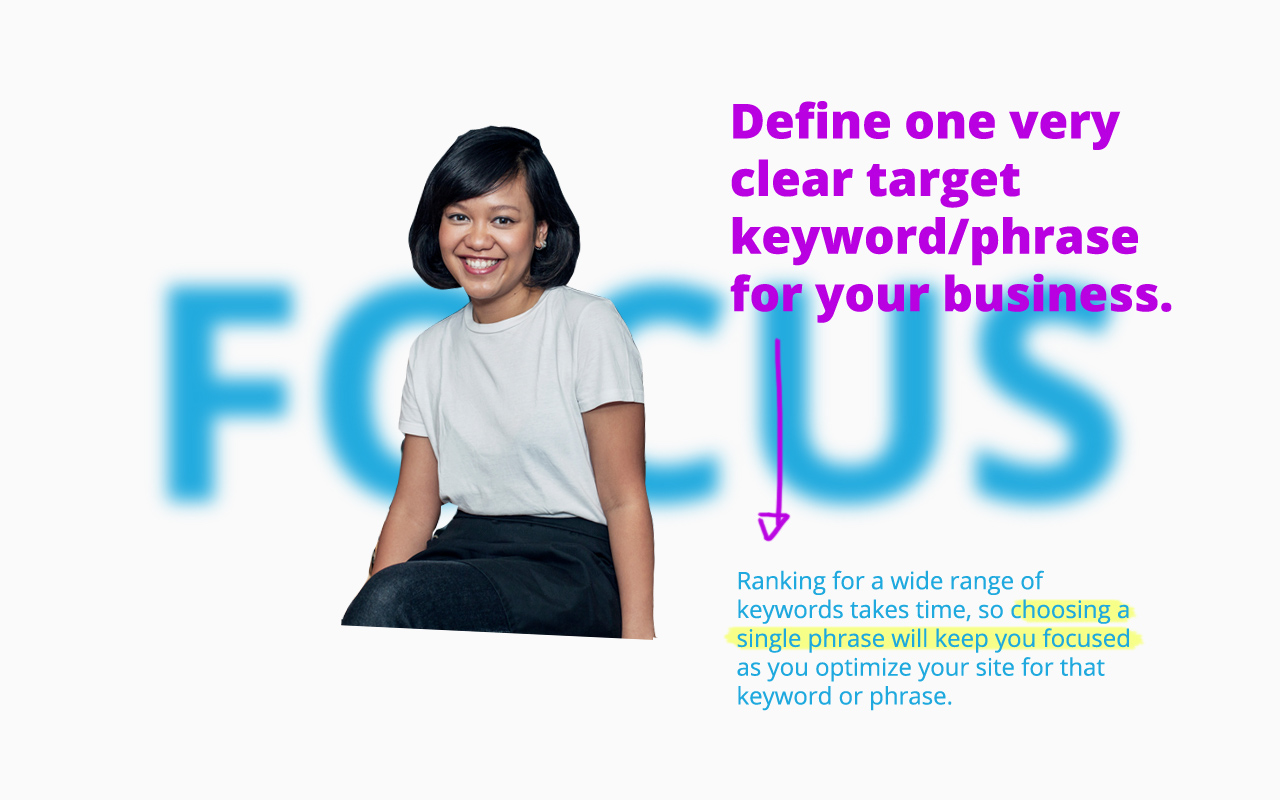 1. Define one very clear target keyword/phrase for your business
Ranking for popular (and valuable) keywords takes some work, so it's important for you to think about what your business wants to rank for and be very specific. Ex. If you're a divorce attorney in Toronto, you probably want to rank for traffic rich keywords like "Divorce Lawyer in Toronto".
Target an achievable keyword phrase, it's going to be next to impossible to have your site rank for a term like 'cheap hotel'. You'll want to narrow your focus a little bit and combine your area of expertise with your brand name or your location you have a much better shot at ranking. Think of it as "What you do + Location". Ex. 'Divorce Lawyer in Toronto', or 'Car Repair in Ottawa'.
It's going to be easier to carry through a single overarching keyword/phrase target across the rest of your site. Don't ever lose sight of your top priority/focus keyword and build out everything else to support it.
Tip: If you haven't already purchased a domain, consider purchasing a relevant and keyword rich domain. Something like AndersonDivorceLawyers.com You can use this tool to check availability of domain names (instantdomainsearch.com)
2. Add Meta titles & descriptions for all of your main pages
Adding page meta to your website helps search engines, and users better understand what type of content is available on your web page. There are three main tags, 1) Title, 2) Description and 3) Keywords. It's most important to update your page meta title and page meta description. Keywords are no longer critical for SEO, so we'll ignore them.
Page meta can be added to your website either through HTML, or through an editor in your website CMS. Ask your website provider how to edit your page meta and follow the simple formulas below for title and description content.
The title tag is considered one of the most important elements in optimizing your website. Most search engines pay particular attention to keywords that occur in the title tag. As well, search engines generally display the title tag's contents in their search results. You want to use a descriptive title which explains in a clear and concise way what your business offers and what content is on each particular page. Keep the length to about 55 characters to avoid having it truncated (the dreaded …) by a search engine.

ex. "Anderson Law are Expert Divorce Lawyers in Toronto". You can see we used a simple Who, What, Where formula for the title tag.
The description meta tag should be used to expand upon the title and succinctly explain the nature and contents of the web page. It adds to your SEO by encourage click throughs from search results listings, and it gets displayed underneath your title tag in Google search results. Try and write the description to be informative, keyword rich, and compelling enough to encourage someone to visit your site. Keep the length to about 155 characters in total.

We provide fair Family, Child Protection and Estate Law in Toronto, Etobicoke and Mississauga. Contact for a free consultation.
3. Update your page URLs to be keyword rich
Keywords in your domain name might not hold as much weight with search ranking as it used to, but having a keyword in your domain name will still assist Google with indexing your relevancy. To do this, make sure your slugs are clear and relevant to your business. What are slugs? They're the exact address of your page on your website, and optimizing them is actually super easy.
Like your choice of keywords, choose a slug based on what your target audience is searching for (and if it fits organically, add in your keyword target).
Update your page URL's from meaningless non-search friendly links like AndersonDivorceLawyers.com/services to something like AndersonDivorceLawyers.com/seperation-agreement-services
Tip: A domain name that starts with your keyword may get an added boost over sites that use a keyword in the middle – end of their domain.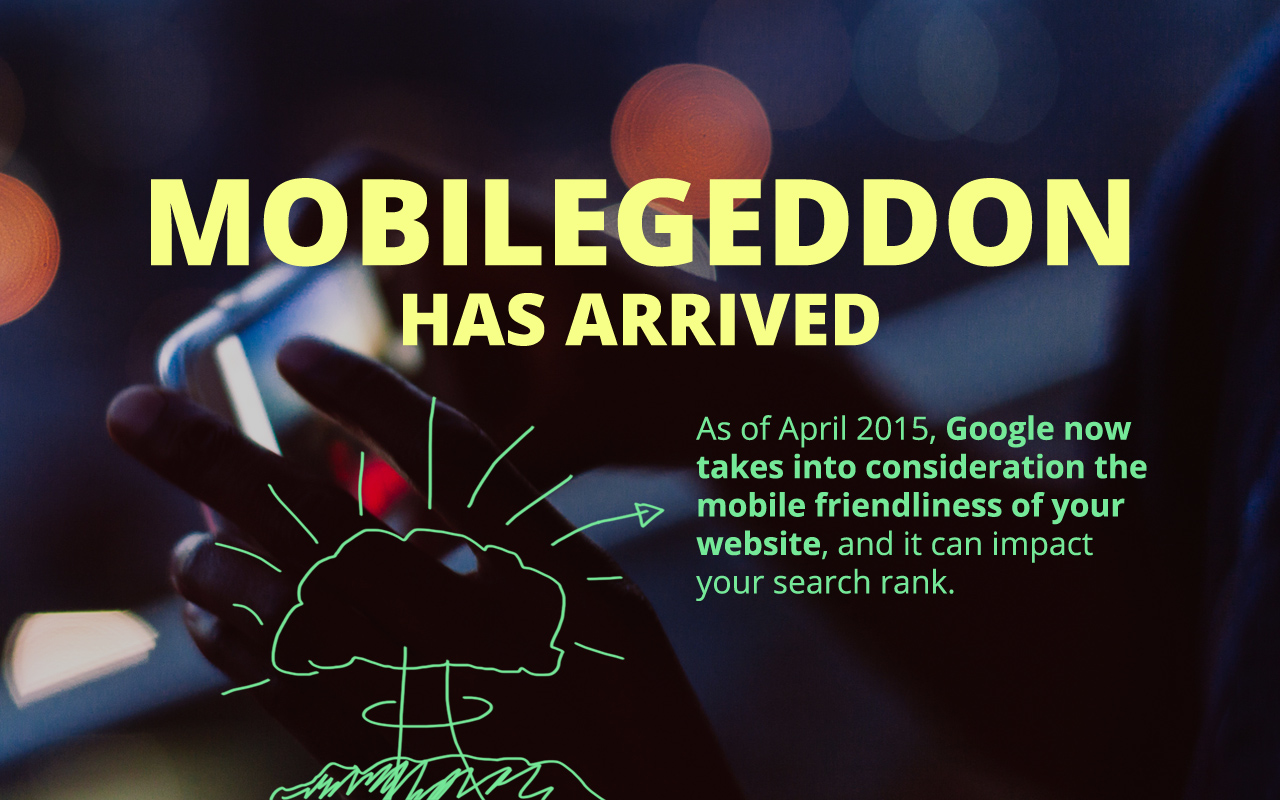 4. Ensure that your site is mobile friendly.
Google now takes into consideration the mobile friendliness of your website, and it can impact your search rank. This change happened on April 21, 2015 and it sent shockwaves throughout the world of SEO, having enough impact to be coined "Mobile-geddon". It currently has a larger impact on mobile search results, but the world continues to shift from desktop to mobile so it's logical to assume that having a mobile friendly website will only become more important over time.
You'll want to have your website updated to be mobile friendly. Contact your existing website provider and ask them if your site is responsive, and/or mobile friendly. If it's not, ask them how much it will be to convert it. You should be expected to pay a cost approximately half of what you were initially charged for your website. If you run into trouble contact the team here at Beam Local as all of our websites are responsive and mobile friendly.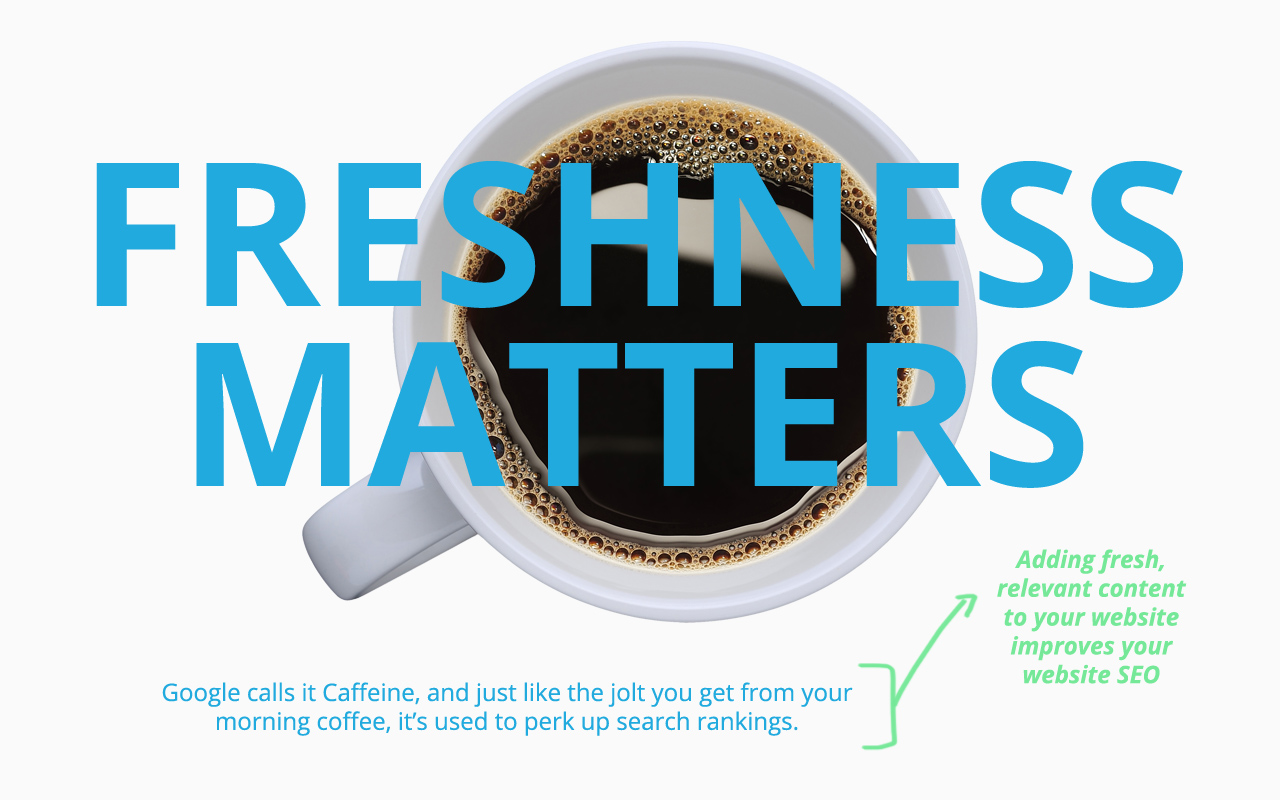 5. Add Fresh, Relevant Content on a Regular Basis
Google calls it Caffeine, and just like the jolt you get from your morning coffee, it's used to perk up search rankings. To energize the search results, Google now takes recency into consideration. For publishing and updating your website often, Google rewards your efforts by favouring your content in it's search results. It really is that simple, so here's a few quick and easy ideas for what you could add to your site.
Add a new (or update an existing) product/service page to your site. Even if you already have a page dedicated to your products/services in general, add a new page which goes into a little more detail about a specific product or service you offer. For example, let's say you offer a legal service in Toronto and you specialize in divorce – you could create a page called "Divorce Lawyer Services by Anderson Law in Toronto" to go into detail.
Add testimonials, if you already have them, add new ones. Google (and customers) like to see recent reviews instead of ones from 5 years ago.
Add up-to-date projects to a portfolio page (for construction, design, or related fields).
Start a blog – don't be afraid it's easy. Write an article about why you started your business, or write a post about the types of work you want to do in the future. Don't lose site of your "one very clear target keyword/phrase for your business". Not sure where to start? Check out #9 on our list, we've covered how you can easily get started on your blog.
6. Optimize your website images for SEO (including file size, filename, and alt tag).
Optimizing your images for search is just as important as optimizing the content on your website. Be selective when adding images, and make sure to add in the proper elements to 1) Help Google's algorithm understand what your image is depicting and 2) Help your user experience work towards increasing your ranking. We wrote another article about how to get great photography for your website which touched on SEO, it's worth checking out.
First and foremost, make sure your image is on topic.

As we've mentioned in

how to get great photography for your website

, nothing is worse than metaphorical imagery – it doesn't serve to support your site's copy, and it doesn't work towards getting your site found.
You want Google to know what your image is, without having to look at it. For your file name, use a concise description of what the image actually is. If your image is a small business owner sitting at a desk, don't use a name like, "DSC1387.jpg". Instead, use something straight to the point like, "small-business-owner-at-desk.jpg".
Always include an Alt Tag (or attribute tags) for every image. They're important because they're another attribute of your site that weighs into your search rank on Google. Try to mention (or re-phrase) the topic of your page in the alt tag while describing the picture, ie "Anderson Family Law Task Team".
Reduce your file size and scale your images. It seems "nit-picky" but if you have an image that's 2500×1500 pixels and you're showing it as 250×150 on your website, the whole size still has to load. What does this have to do with SEO? User experience is weighed into your search ranking index. Large images take longer to load which is bad for your user experience. So, if a page takes a while to load because your images are too large, this will work against your ranking.
Tip: Gimp is a great free photo editing service. It can be used even for slightly more complex edits. Gimp has the capability to change colours, sizes, distort, and enhance photos with ease.
7. What to avoid – You will be penalized if you try to aggressively spam the internet with these "Black Hat" tactics.
Hopefully with our easy tips, you'll be less intimidated by SEO strategies and more likely to steer clear from the "easy out" of using "Black Hat" SEO tactics. Black Hat refers to overly aggressive SEO tactics that are, in essence, trying to trick the algorithm to enhance your search ranking. It's 100% search engine aimed, and not thinking about the impact on your audience's perception of your website, and therefore your business. Please think twice before trying (or hiring anyone that tries) any of these tactics – you really don't want to risk penalization from Google.
Keyword stuffing – Having a certain over-density of keywords on your page will look suspicious to the search engine and you may actually raise the "spam" or "malicious content" alarm with Google. Only use your keywords when they weave into your content naturally.
Relying on the use of social bookmarking, directory submissions, article spinning, and guest posting via content farms – These tactics used to fly, but Google caught on and started angling towards a better user experience by weighing content and link quality over quantity. Anyone who relies on these tactics are out of touch and will harm your business.
Promises that you'll rank at a certain number within a certain timeframe – The Google algorithm is always changing, SEO takes work and time to understand keywords competitors in your field rank for and what your target audience is searching for. First page ranking within a month sounds too good to be true because it is.
Guaranteeing traffic – SEO is just as much an art as it is a science; anyone who guarantees you a certain level of traffic or "your money back" is obviously leaning on some dishonest tactics to boost it (ie click farms). It can be tempting, but if you don't get the right audience to your site, the traffic will be useless to your bottom line anyway.
Creation of fake social media accounts – This goes without saying, if anyone offers to create followers for you, steer clear.
In summary we've helped answer common questions like 'What is SEO?', 'Why does SEO matter for a small business?', and we've given you a simple playbook for how you how to SEO your website.
Hopefully you're no longer intimidated by the term SEO, now you might even think this isn't as hard as it's made out to be. So the next time you get a cold call from an SEO salesperson promising you top rank on Google, you'll be able to hold your own.
We understand you're a small business owner, not a certified SEO marketer, which is why we're starting from the ground up. These are your beginner's SEO tips, we'll be following up with an Intermediate level so you can improve your knowledge and tactics little by little. This is just one step towards leveraging your small business website to help you grow as a business, make sure to check out the rest of our hub for more quick and easy ways to be a better business.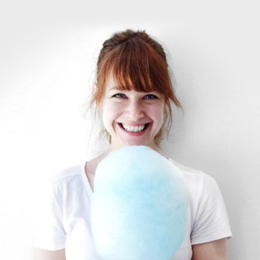 Author's Corner
Sam Gordanier
Hey I'm Sam, the Marketing Coordinator here at Beam Local, where I work on helping my team make great marketing decisions. What do I love about my work? Helping small business owners find uncomplicated ways to grow their own businesses. I'm always on the lookout for businesses who are interested in applying innovative tech strategy to their marketing plans. I've worked with hundreds of small businesses, and write content to help business owners get better at running their businesses. When I'm not helping small businesses get better, you can find me on my couch with my cat watching Seinfeld.
Let an expert guide you.
Beam Local helps professionals launch better websites, outrank their competition on Google, and attract better customers for their businesses.