[15 min read]
Photography to Improve your Website
by Samantha Gordanier
Great photography on your website can improve your business's reach, reputation, and revenue.
It's just another way you can use a small business website to help you be a better business.
We're going to show you ways to find great photography for your business at a reasonable price, how to get a professional portrait and/or team picture, plus ways to optimize those images and drive you new leads.
That's right, photography plays a critical role and we'll show you how it can improve your website. It's easy, let's go!
Find quality stock photography for your website at a reasonable price
A good rule of thumb to stick with is focus on quality over quantity when sourcing website photography. Every image you choose plays a role in shaping the perception of who you are, and what type of business you want to be. An image speaks louder than 1000 words, so imagine what 10 poor images says about your business. Don't worry though, we're experts at finding amazing small business stock photography at very reasonable prices. If you follow our tips below you really can't go wrong.
Try to avoid using overly cluttered or complicated images, and steer clear of metaphors. You want images that represent your brand and act as an extension to your business and your website copy. Try and find images which are a little off the beaten path… If you're a lawyer don't search for 'lawyer picture'… or you'll end up with the same photos as your competition. Try searching for something like 'creative professional', or 'modern office' etc.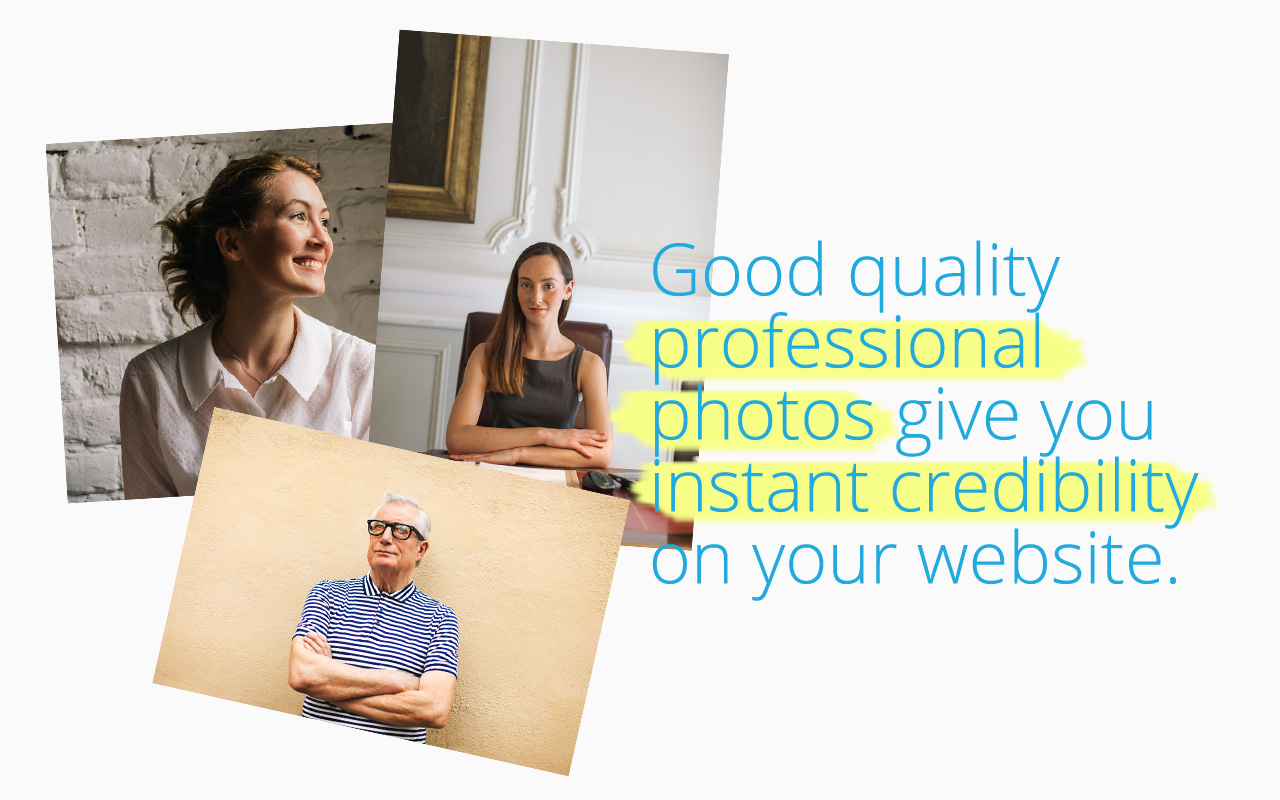 Get a personal, and/or team photo that will give you instant credibility
Displaying a personal photo of yourself and your team makes your business personable and trustworthy – your audience can now put a human face to a name and you can start to build a reputation off of it. Consumers are most likely to hire a professional they feel like they know, so let your audience quickly learn (and form an opinion) about you through your photograph. How do you do that? Show your personality, don't use a photo more than 5 years old, and stay away from using a photo from a wedding you recently attended, or a photo where you've cropped out your significant other. This photo represents you, your team and your business, it's important to make the effort to get good photography for your website. The good news here is that getting great professional photos doesn't have to be time consuming and expensive.
To make the most out of your photos, make sure to show your personality, smile naturally, wear professional clothing, and keep your backdrop either neutral (so it doesn't detract attention) or relevant to your business to add to your credibility. Keeping your background neutral is not always a rule you have to absolutely follow. For example, a contractor could have a personal photo taken on a construction site which would be a great background; it might actually give the person greater credibility if executed properly.
Once you have your photos, keep in mind that your face is the face of your business, so keep those photos up to date. Nothing looks worse than a vintage yearbook photo styled portrait, and an outdated portrait will work against you.
Pro tip: wedding photographers are often free during the week and take on 'portrait' photography for decent rates.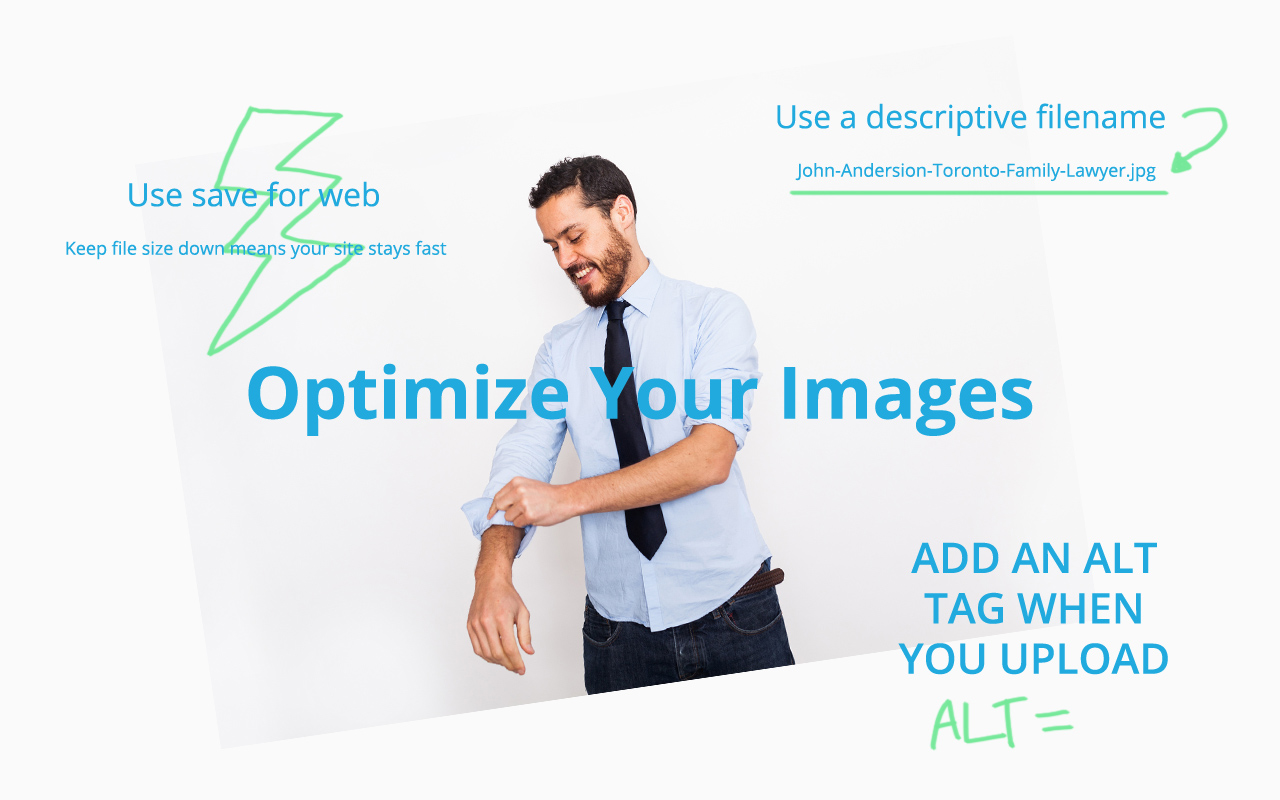 Optimize your photography for search engines to increase your SEO rank.
81% of consumers are searching for businesses before making a purchase; if your website isn't appearing on search results properly optimized photography can help both your website rank on searches, and also have your images rank in Google images. Showing up for key terms on Google search results will instantly boost the traffic to your website, and lead to more inquiries for your business. SEO doesn't have to be difficult; if you follow these rules you'll have a chance to increase your ranking almost immediately.
When adding photos, ensure that they're relevant. If you run a small law firm and your google image search result displays a beach ball, people won't make the association and won't be led to your site.
Once you have relevant photos, make sure you clearly name them using keywords from your site ie., "Anderson-Law-Team-Photo.jpg". Every time you re-use keywords on your site and in your photos, you're contributing to making your site rank better.
Always include an Alt Tag for every image. Alt Tags are important to add because it weighs into your search rank on Google. An added bonus of having Alt Text is that Google is now able to describe what your image is to your visually impaired audience. That's why you want to make it descriptive, but don't go overboard. An example of an effective Alt Tag would be to use "Anderson Law Boardroom in Toronto", or "Anderson Family Law Task Team".
Simple and free ways to edit or crop an image you can do yourself.
It's important that all images you use are high resolution and the right dimensions to fit the page. As a small business owner, you may understand that you need the best fit photos possible for your site, but don't have the budget to hire someone to edit them for you. Editing your photos doesn't have to be done by a professional, and you don't have to spend countless hours enhancing them.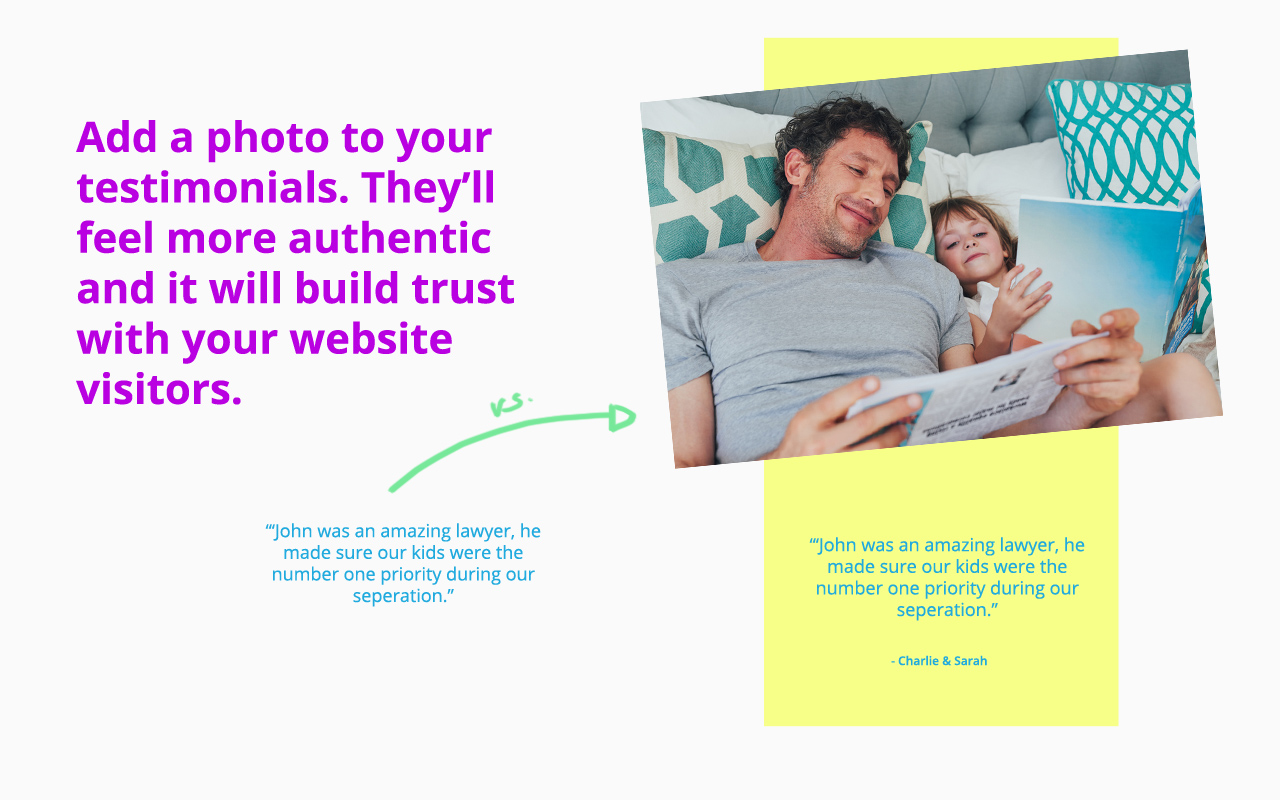 If you have testimonials on your site, add your customer photos.
Because of the platform of your testimonials (your website), readers will be more skeptical than if it were on a third party website. According to Kissmetrics, adding testimonials to your site will increase your conversion rate by 34%. How? They give your potential customers reassurance that your product/service is great – which contributes to your reputability. Adding a customer photo beside the testimonial will further increase trust in that person and what they're stating about your business. It's as easy as putting a face to a name to verify that, you know, they're not a bot.
When contacting customers for testimonials, simply ask them "Hi there, following our great experience working together I'm hoping you might be able to send me a short testimonial I could use on my website? It would be really amazing if I could also post a photo of you and or the project we worked on together. Would that be okay?"
Once you get the photo testimonial, and photo back from the customer be sure to add it to your website, and optimize it for SEO as per our point above.
Adding testimonials with photos which are authentic and honest reviews of your business can have a big impact on building trust with your visitors, and encourage more of them to reach out and connect with you.
Getting photography is important – it's not hard or as expensive as you think, and it will improve your reach, reputation, and ultimately the revenue of your website.
In fact, having effective photography is so important that professionals spend countless time and money testing their effect on business. Even Barack Obama's digital team did an A/B test with conversions using two different photo layouts and saw an increase in donations by 49%. AirBnb also thanks professional photography for their 2 – 3x growth in bookings back in 2010.
But you're a busy small business owner, you may not have the resources for A/B testing and that's okay!
We've showed you that photography is essential for your website, how to find it, how to optimize it, and what types of photos work best for your business goals.
If you follow these tips you'll be well on your way to making great photography work for your website, and attribute to your business's growth in no time. This is just one step towards leveraging your small business website to help you grow as a business, make sure to check out the rest of our hub for more quick and easy ways to be a better business.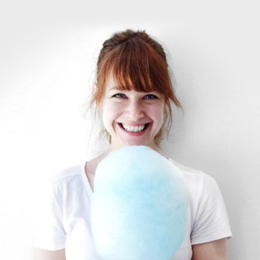 Author's Corner
Sam Gordanier
Hey I'm Sam, the Marketing Coordinator here at Beam Local, where I work on helping my team make great marketing decisions. What do I love about my work? Helping small business owners find uncomplicated ways to grow their own businesses. I'm always on the lookout for businesses who are interested in applying innovative tech strategy to their marketing plans. I've worked with hundreds of small businesses, and write content to help business owners get better at running their businesses. When I'm not helping small businesses get better, you can find me on my couch with my cat watching Seinfeld.
Let an expert guide you.
Beam Local helps professionals launch better websites, outrank their competition on Google, and attract better customers for their businesses.