[15 min read]
7 Massive Companies Started in Tiny Unexpected Spaces
by Samantha Gordanier
Starting a business isn't all about slick boardrooms and cocktail hours. Even the largest of companies start small. They use garages, motels, or even dorm rooms to kick start their companies with a small (or no) staff.
That's right Apple, Google, and Amazon were all started in garages, Airbnb on a loft floor, Microsoft in a seedy motel, YouTube in a rat infested office, and Linkedin in a living room.
Check out some of the before and afters for these companies below…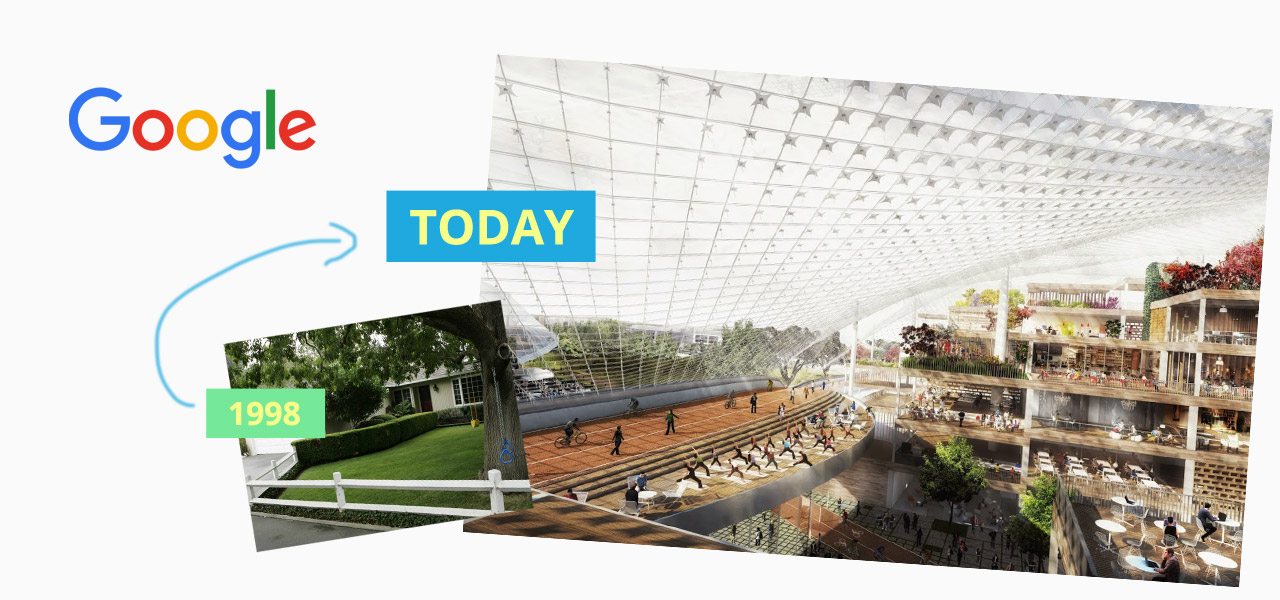 1. Google
Google went from a Garage office with 3 people to one of the world's largest corporate campuses named the "Googleplex" with 57,100 on staff and net profits only beaten by Apple.
---
Back in 1998
Office Space
Google's first office cost them a whopping $1700 a month for a 2000 sq.ft. garage located in Susan Wojcicki's home on St Margarita Ave. in Menlo Park, CA which they rented out to help with her mortgage payments.
Company Size
There were 2 original founders; Larry Page and Sergey Brin, Google added a 3rd (Susan Wojcicki – owner of the garage) in the late 90's.
---
Now in 2016
Office Space
Nowadays Google owns a plethora of campuses that they call "Googleplex". Their first complex has 2 million sq.ft. of office space in Santa Clara, California and their New York office on Eighth Ave is almost 3 million sq ft! In 2013, Google spent $120 million on expanding their California HQ. No issues with mortgage payments anymore, I bet.
Company Size
Google has over 57,100 employees!
Company Value
Google is valued at $82.5 Billion in 2016.
Breakout Moment
It's Google – there's tonnes to choose from here. Since we're suckers for an origin story (and a great typo), we'll choose the moment when a Stanford grad student (Sean Anderson) suggested they switch the search engine from Backrub (sprung from the functionality of sorting the internet's back links to display search results) to "Googolplex". Page liked the idea but wanted it shortened to "googol". Anderson then checked to see if the domain was taken, but accidentally searched for Google.com instead of googol – Google was born.
Little Known Fact
This little known fact is about the Google Doodle the temporary play on Google's homepage logo used nowadays to showcase events, anniversaries, and holidays. The first Google doodle in August 1998 was actually used to let people know where they all went for the weekend (the Burning Man logo).
2. Amazon
Amazon's online retailing empire started with one man in a very hot garage and grew into company with a breezy 3.3 million sq.ft. head office employing over 200,000 people to sell goods to over 30 million customers.
---
Back in 1995
Office Space
Knowing online retail was going to be huge, Bezos moved to Seattle and demanded that his new house (10704 NE 28th, Bellevue, Washington) have a garage so he could set-up shop and start working. The garage was a little cramped due to a massive pot bellied stove so Bezos was forced to conduct all meetings at a neighbourhood Barnes and Noble.
Company Size
1. Jeff Bezos.
---
Now in 2016

Office Space
Now, Amazon has a 3.3 million sq.ft series of domes for their headquarters located in Seattle within one of the city's fastest growing (and stylish) neighbourhoods.
Company Size
Over 230,800.
Company Value
Amazon is worth $292.6 Billion USD in 2016.
Breakout Moment
Bezo's quitting his Wall Street firm because of his "regret minimization framework," which he explains as his initiative to fend off any regrets for not participating sooner in the Internet business boom during that time (by getting a move on and jumping in).
Little Known Fact
Amazon's first name was actually "Cadabra" but Bezo's lawyer misheard it as "cadaver". Not wanting his company to be mistaken for a corpse, Bezos changed the name to "Amazon" because of the exotic connotations.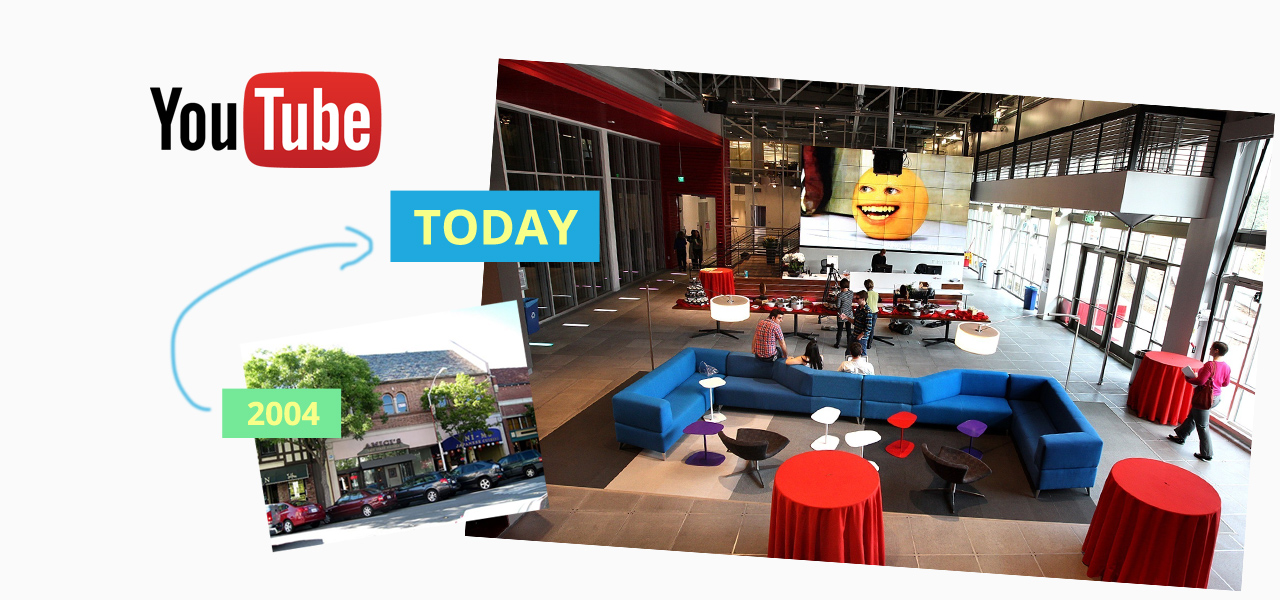 3. Youtube
Making the trip being unknowns to the apple of Google's eye – 3 young men transitioned their company from a rat infested office above a pizzeria to a sprawling headquarters in San Bruno employing over 20,000 people to serve over 819,417,600 hours of video to their audience.
---
Back in 2004
Office Space
The founders (three ex-Paypalers) moved into their first unassuming headquarters situated above a pizzeria and a Japanese restaurant in San Mateo and got to work. The time came to move out when they discovered a rat problem.
Company Size
3. Chad Hurley, Steve Chen, and Jawed Karim.
---
Now in 2016
Office Space
As of January 2016, Youtube's headquarters in San Bruno, California was expanded with the purchase of a 554,000 sq.ft. office park for $215 billion.
Company Size
Over 20,000.
Company Value
Youtube was acquired by Google on November 13, 2006 for $1.65 billion – not too shabby. It's estimated that YouTube is worth about $90 Billion USD apart from Google.
Breakout Moment
The moment when their first video their first video was uploaded on April 23, 2005 featuring one of their founding members, Jawed Karim at the San Diego Zoo. The LA Times explains the significance of this video as playing, " a pivotal role in fundamentally altering how people consume media and helped usher in a golden era of the 60-second video." As of May 2016, the video has received over 31 million views and over 220,000 comments.
Little Known Fact
As YouTube legend would have it, the first comment on "Me at the Zoo" was "Interesting" but it was flagged as spam.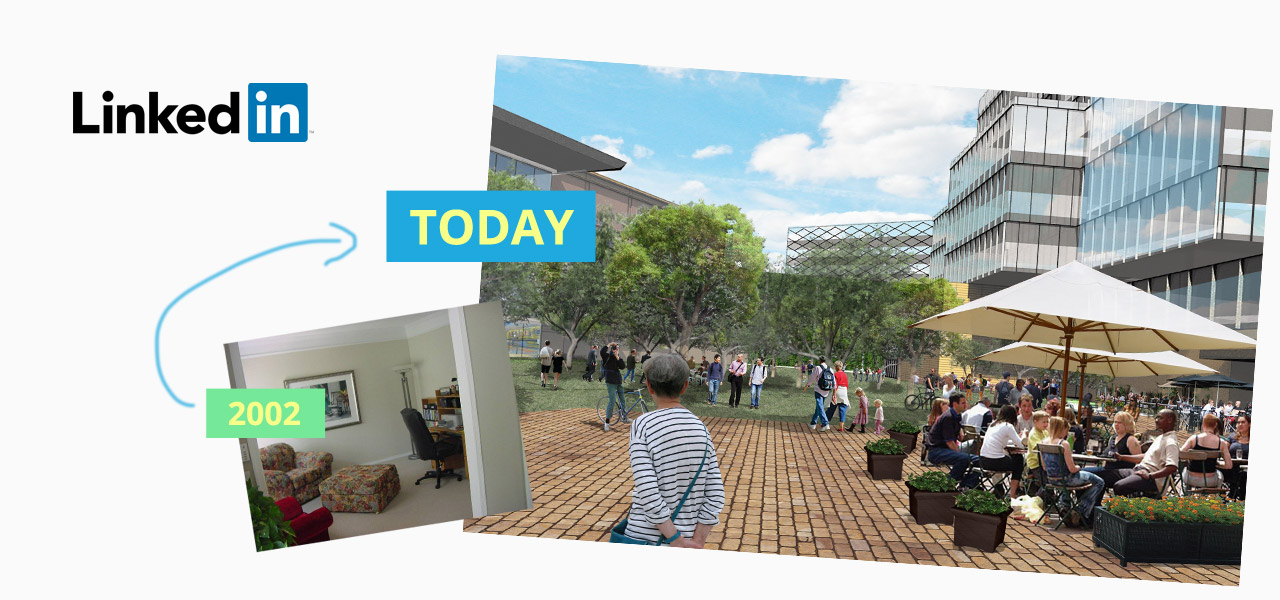 4. Linkedin
The world's largest business networking platform was founded from a not-so-business setting – Hoffman's living room. Today, with over 6000 on staff, and an impressive mountain view to boot, LinkedIn has come quite a long way.

---
Back in 2002
Office Space
Reid Hoffman started LinkedIn from a fairly unimpressive computer desk in his living room.
Company Size
1. Reid Hoffman is the original founder of LinkedIn, quickly adding on 5 more in 2003.
---
Today in 2016
Office Space
Linkedin has an impressive lease on a 26-story high rise in San Francisco but is working towards getting its very own campus. As of 2015, LinkedIn started plans for a 1.6 million sq.ft. office space in Mountain View, California.
Company Size
Over 6,000.
Company Value
LinkedIn is currently valued at $15.8 Billion USD.
Breakout Moment
In 2004, LinkedIn needed to speed up their growth. In their previous year, they could have some days where there were as little as 20 sign ups. To battle this, they introduce a new features to speed up growth: their address book upload, Groups and a partnership with American Express.
Little Known Fact
LinkedIn went live on May 5th, 2003 which is now called cinco de LinkedIn by it's employees.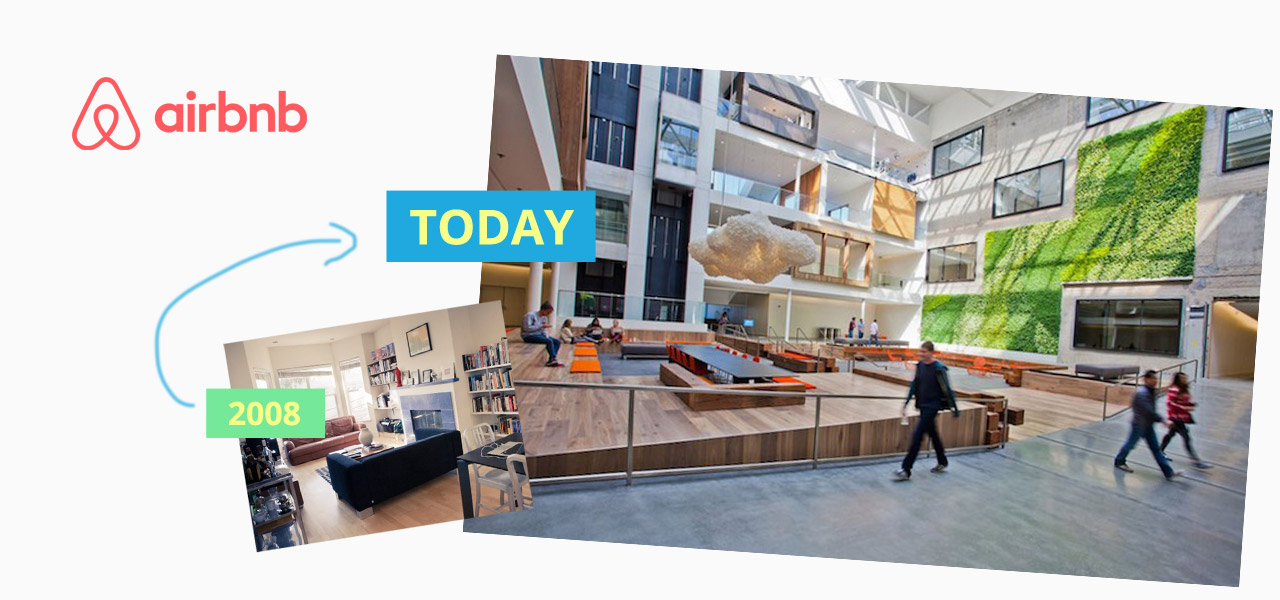 5. Airbnb
Airbnb started with two young guys who couldn't afford their loft rent so they rented out their air mattresses and threw in the promise of a home cooked breakfast. After a few set-backs, their company expanded to the point that one founder had to give his bedroom up for office space, and Airbnb eventually landed in a 170,000 sq. ft. head office with over 2,368 employees to service their over 1.5 million listings.

---
Back in 2008
Office Space
The first office for Airbnb was located in Chesky and Gebbia's San Franciso loft – to make room for employees Chesky actually gave up his bedroom and started living exclusively in Airbnb listings while they were getting the business up and running. The first listing was also Chesky and Gebbia's apartment way back in the days when Airbnb was Air Bed and Breakfast, with air mattresses lining the floor of their apartment (to offset their high rent).
Original Employees
The company started with two, Brian Chesky and Joe Gebbia, but technical architect Nathan Blecharczyk joined soon after in 2008.
---
Today in 2016
Office Space
Today, Airbnb has a cozy 170,000 sq.ft. headquarters in San Francisco noted for being very homey since a majority of the employees work life is spent there – why wouldn't it be?
Company Size
Over 2,368.
Company Value
As of 2015, Airbnb was valued at $25.5 billion.
Breakout Moment
A notable step forward was in 2010 when the founders travelled to New York to take professional photographs of listings – bookings grew by 2-3x as a result.
Little Known Fact
Chesky and Gebbia made presidential candidate themed cereal boxes to raise money for their new company. The bid raised $30,000. What's not hugely known is that the move was relatively unsuccessful and they report having to eat a massive amount of leftover cereal.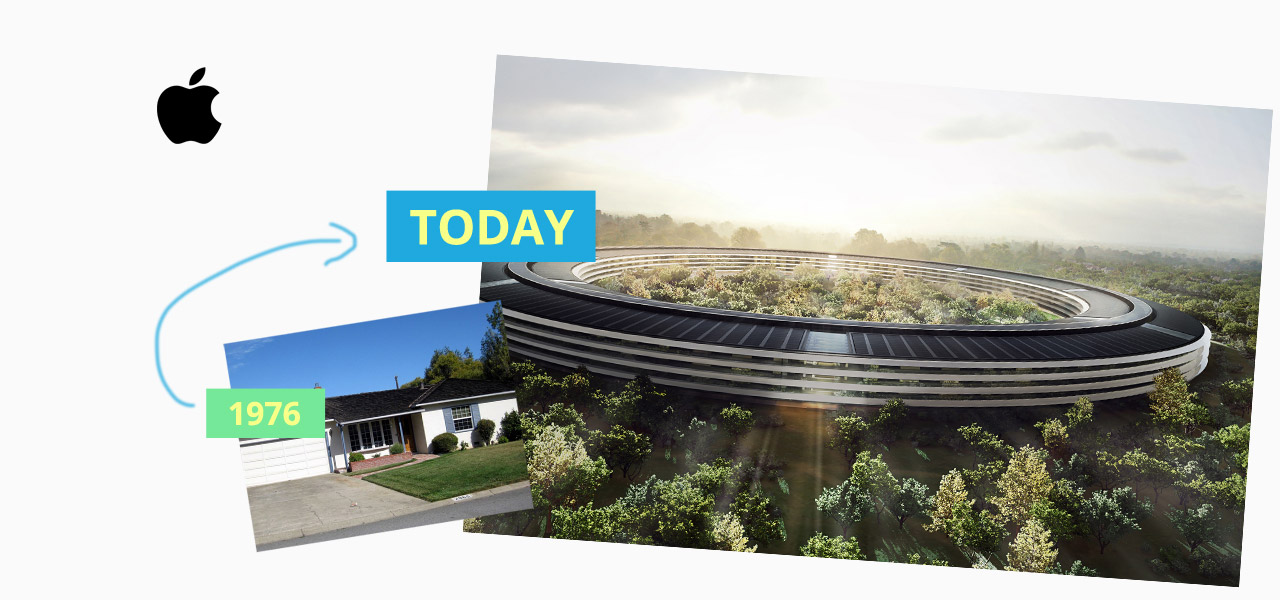 6. Apple
Apple is the reason why you should be proud to start in a garage. Wozniak and Jobs set-up their first work station in Job's parents garage, hand-building their first computers (to be sold for $666.6 USD). After product failures, management drama, founder firings, being on the brink of bankruptcy, Apple is the comeback story you want to have – today its the most profitable publicly traded company in the world.

---
Back in 1976
Office Space
As Apple legend would have it, Steve Wozniak and Steve Jobs started their company as a two man production line situated in Job's parents garage. Their first real office was moved to 20863 Stevens Creek Blvd in Cupertino California in 1977.
Company Size
3. Starting with Jobs, Wozniak and Ronald Wayne and in the mid-late 70's added Bob Martinengo and Mark Johnson. Ron Wayne only lasted 12 days with the pair and sold his shares for $800. In 1978, the Apple II team included Mark Johnson, Elmer Baum, Mike Markkula, Gary Martin, Andre Sousan, Steve Jobs, Sue Cabannis, Mike Scott, and Don Breuner.
---
Today in 2016
Office Space
Today, Apple's campus in California is getting a spaceship reboot with 2.8 million sq.ft. reportedly costing them $5 billion.
Company Size
Over 115,000.
Company Value
In terms of worldwide publicly traded companies, Apple is #1 in Profit and Market Value at $586 Billion USD.
Breakout Moment
Not to get caught up in the wide array of Apple's tech innovations, we'll say their breakout moment was in 1977 with the creation of their infamous logo. The bitten apple was actually their second logo for Apple II, Apple I used a Newtonian wood carving style logo. It's rumoured that the origin of the bitten apple logo was to commemorate the late Alan Turing (father of the modern computer) who committed suicide by biting into a cyanide laced apple – Apple denies the claims.
Little Known Fact
At the tender age of 30, co-founder Steve Jobs left Apple. We say "left" because he and John Sculley (former CEO) have differing opinions on whether he was fired or took a sabbatical. In 1997, Apple was actually on the verge of bankruptcy and rehires Jobs to turn the company back around.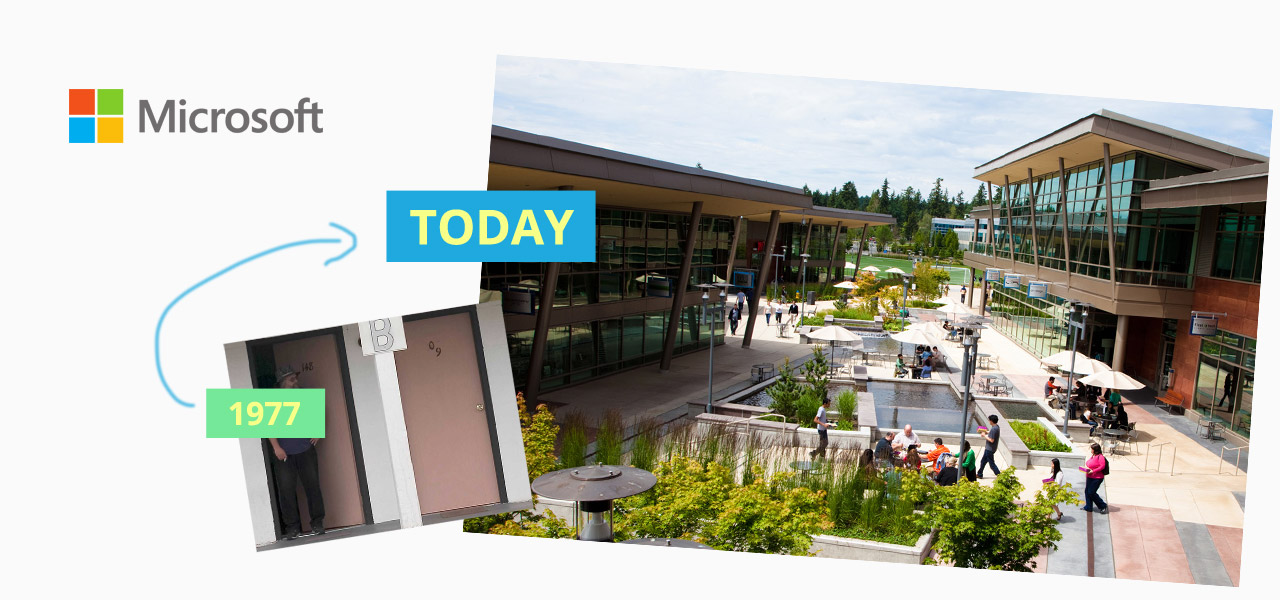 7. Microsoft
Two guys in a seedy Albuquerque motel off the highway worked on their business until they became profitable and eventually moved into their 1.4 million sq.ft. campus equipped with a mall, bikes, and free meals for all staffers.
---
Back in 1977
Office Space
In 1977, Gates and Allen move to The Sundowner Motel off of Route 66 in New Mexico. After they moved out, the motel quickly fell into disrepair, reportedly becoming a hotbed for drug use and prostitution rings.
Company Size
1. Just Gates in 1975, adding Allen in 1976 and 11 more in 1978.
---
Today in 2016
Office Space
Today, their headquarters are a little less seedy. Located on the Microsoft Redmond campus in Washington, the campus consists of 80 buildings that sprawl across 500 acres of land. In 2015 Microsoft put plans in motion to add an additional 1.4 million sq. ft. to one of their buildings. They even have a shopping mall and post offices on campus for their employees convenience.
Company Size
Over 118,584.
Company Value
After 13 years of topping Forbes richest man on the planet list, self proclaimed "not a "sit on the beach" type of guy – Gates keeps busy as an advisor on Microsoft and works with his wife Melida on humanitarian aid. Microsoft is valued at $407 Billion USD today.
Breakout Moment
In 1976, in an Open Letter, Gates begins his reputation for being tough and focused by calling out computer hobbyists for sharing his software instead of paying for it individually. Two years later Microsoft's year end sales surpass the $1 million mark.
Little Known Fact
Gates was attending Harvard when he started Microsoft in his junior year, taking a few leave of absences, eventually graduating as the record holding youngest billionaire in 2007.
Are you working out of your garage, in your bedroom, a motel room, or a friends space that they aren't using on the weekends? Listen, it happens. We all have to start somewhere – the big thing is that you started. So many people have had ideas for companies and just sat on them because taking that initial leap is too risky – but you did. And you're in good company.
As you can see, every great business has to start somewhere so remember the harder times, even jot them down, we may need that info for when you make our list next year.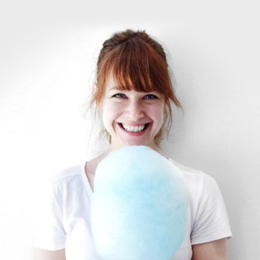 Author's Corner
Sam Gordanier
Hey I'm Sam, the Marketing Coordinator here at Beam Local, where I work on helping my team make great marketing decisions. What do I love about my work? Helping small business owners find uncomplicated ways to grow their own businesses. I'm always on the lookout for businesses who are interested in applying innovative tech strategy to their marketing plans. I've worked with hundreds of small businesses, and write content to help business owners get better at running their businesses. When I'm not helping small businesses get better, you can find me on my couch with my cat watching Seinfeld.
Let an expert guide you.
Beam Local helps professionals launch better websites, outrank their competition on Google, and attract better customers for their businesses.